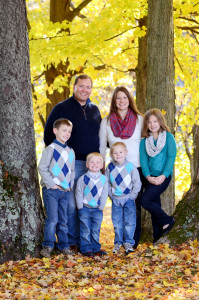 Rev. Jason R. McConnell has served Franklin United Church as pastor since January 1, 2004. Prior to moving to Franklin, Jason served in various pastoral roles at the Chapel of Hope in Josephine, Pennsylvania; Parkview Presbyterian Church in Oak Park, IL; and Peoples Evangelical Congregational Church in Ashburnham, MA.
Jason and Jennifer met at Moody Bible Institute in Chicago, IL, where they both graduated in 2001. Jason received a Bachelor of Arts in Pastoral Ministry and Jennifer received a Bachelor of Arts in Church Music.
After graduating from Moody, the McConnells moved to Massachusetts to begin studies at Gordon-Conwell Theological Seminary. Jason completed a Master of Divinity degree in 2005 and a Master of Theology degree in 2007. He received a Doctor of Ministry degree in Rural Ministry from Beeson Divinity School in 2011.
As well as leading worship at Franklin United Church, Jennifer is the music teacher at Franklin Central School and Sheldon Elementary School.
In addition to their ministry at the church, the McConnells enjoy spending time in the Vermont outdoors: hiking, biking, fishing, skiing, snowshoeing, etc.
The McConnells have four children: Sarah, Marcus, and Duncan, and Matthias.